Eeyou Istchee Regional Portrait
Inter-Nation Collaboration
Geomatics and Cartography
Graphic Design and Territorial Branding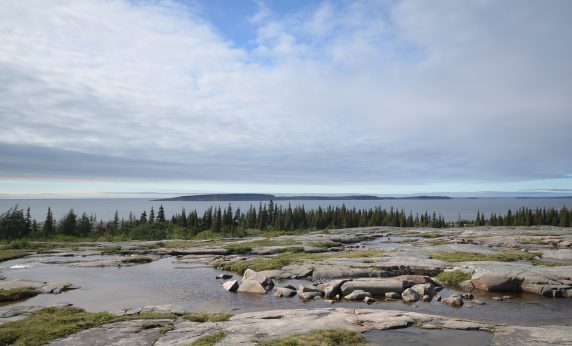 A detailed portrait of Eeyou Istchee as a first step in the development of its culturally appropriate contemporary planning tools.
Eeyou Istchee is the ancestral land of the Cree of eastern James Bay. Located between the 48th and 56th parallels, it covers more than 450,000 km² of the boreal ecozone. The territory encompasses 11 Cree First Nations, 18,000 inhabitants and over 300 traditional hunting and trapping grounds. Category II lands in Eeyou Istchee are not subject to the Act respecting land use planning and development and are under different jurisdiction. One of the mandates of the Eeyou Planning Commission has been to prepare a Regional Strategic Land and Resource Use Plan for Category II lands.
A detailed analysis of this region was required to find contemporary and culturally appropriate tools for this territory. BC2's mandate related to this need for a comprehensive analysis of the area. Through this project, studies, reports and data on land and resource use and preservation in Eeyou Istchee were collated and analysed.
In addition to enabling the Eeyou Planning Commission to take an important step in their process of developing a Regional Strategic Land and Resource Use Plan, this portrait has initiated a reflection on the appropriateness of the Cree Nation Government acquiring certain regional land use planning powers in accordance with governance agreements.
The development of the portrait required a research methodology that extended beyond the traditional framework of planning practice. Eeyou Istchee is a large-scale territory, including settlement lands, with environmental, social, and economic issues that vary from region to region. As a result, a holistic analysis exploring a range of themes from multiple perspectives was the preferred approach. To adapt the portrait to the Cree culture, chapters on the relationship of the Crees with their territory and cultural landscapes were integrated. Considering the distinctive nature of each of the Cree nations, this portrait also includes a chapter that analyses them individually. Attention was given to the consideration of the Cree knowledge base. The results of public consultations conducted by the Eeyou Planning Commission and other documents published by the Cree Nations have been prioritized.
The portrait prioritized Cree perspectives while considering various Western disciplines. Going beyond simple legal criteria, the analysis allows for the creation of a document that adequately reflects the Cree context as well as the values, perceived issues, and vision of each community in relation to their respective territories.
Data sheet
Client

Eeyou Planning Commission et Gouvernement de la Nation Crie

Location

Eeyou Istchee

Year of execution

2020
Expertise
Inter-Nation Collaboration
Geomatics and Cartography
Graphic Design and Territorial Branding
Services provided
Planning and regulation
Strategic planning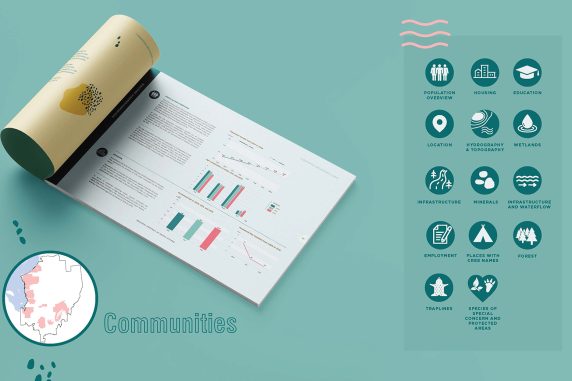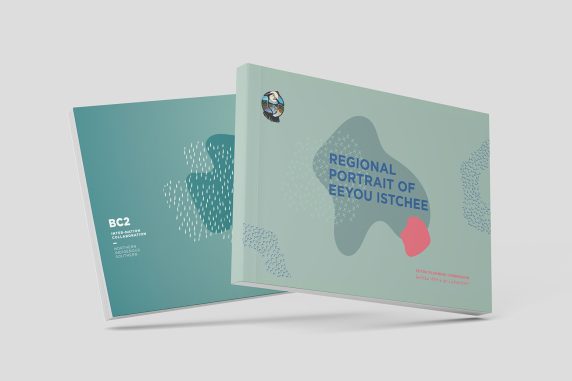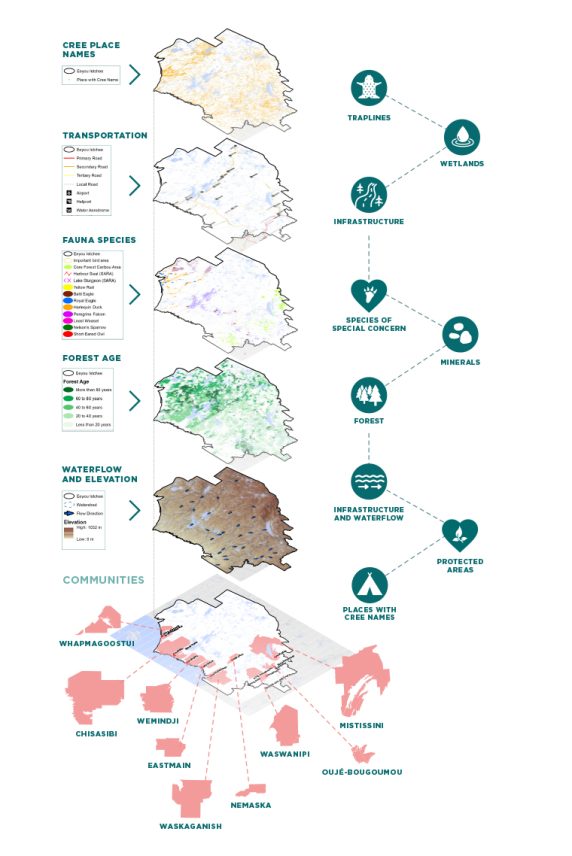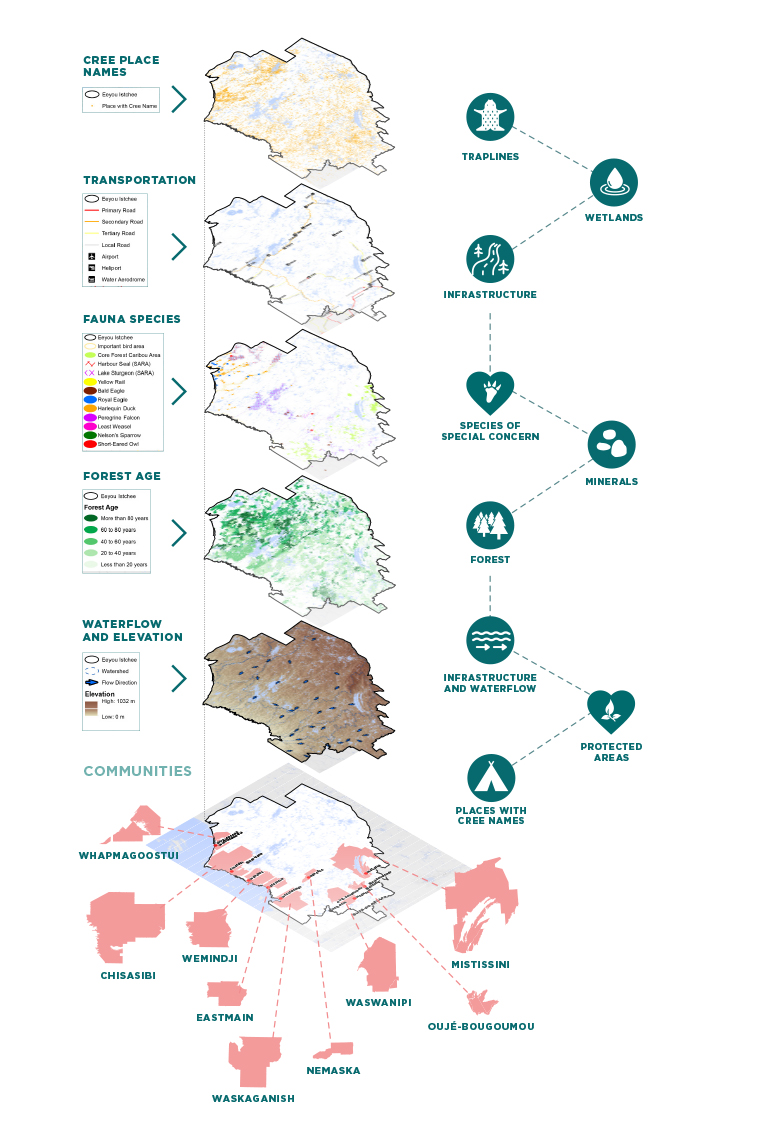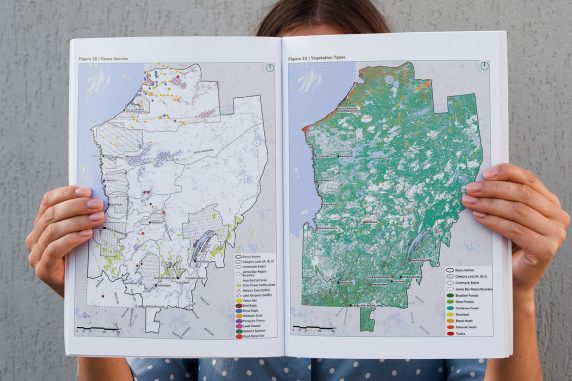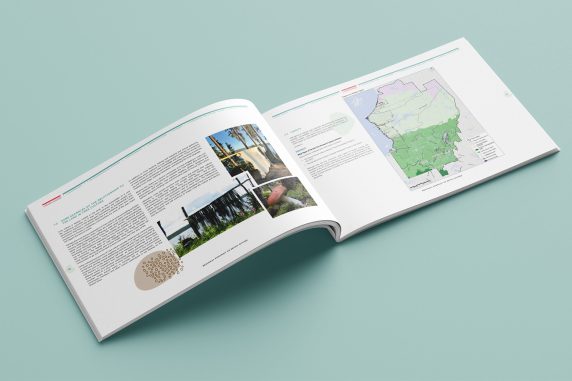 Awards received
Relève en urbanisme
Innovative projects in urban planning
2021-2022
Ordre des urbanistes du Québec
Selected in the directory of best practices in urban planning - Sustainable Development
2022