Urban Planning
Landscape Architecture
Urban Design
Strategies
Geomatics and Cartography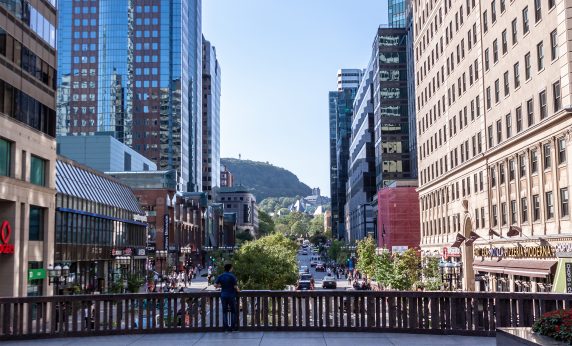 An urban characterization study conducted prior to the redevelopment of McGill College Avenue into a vast public space.
McGill College Avenue, a prestigious artery and a high point of representation of the City of Montreal, offers a unique visual perspective on and from mount Royal and is the subject of an ambitious project aimed at transforming and redeveloping this historic street into a vast public space. The development is based on issues related to the enhancement of the built, landscape and cultural heritage, conviviality and social cohesion, animation and urban vitality, mobility and accessibility, quality of life and health of residents and workers, and urban biodiversity and improvement of the local microclimate.
The City of Montreal mandated BC2 to conduct an urban characterization of McGill College Avenue. This mandate was part of the process of developing the functional and technical program for the redevelopment of the Avenue into a vast public space ahead of the upcoming implementation of an REM (Réseau express métropolitain) station. The approach proposed by BC2 combined an expert characterization by associating professionals from various disciplines with a sensitive approach to the space (sound, light, affective). The characterization study required the research into, analysis and synthesis of a vast body of documentation, as well as the carrying out of complementary studies. Focus was placed on the meaning of the place, its typomorphological evolution, the occupation of the space and user cohabitation, and street functionality and mobility.
Data sheet
Client

Ville de Montréal

Location

Montréal

Year of execution

2018-2019
Expertise
Urban Planning
Landscape Architecture
Urban Design
Strategies
Geomatics and Cartography
Services provided
Planning
Strategic planning