Insect Farm Development Business Plan in Yukon
Strategies
Inter-Nation Collaboration
Graphic Design and Territorial Branding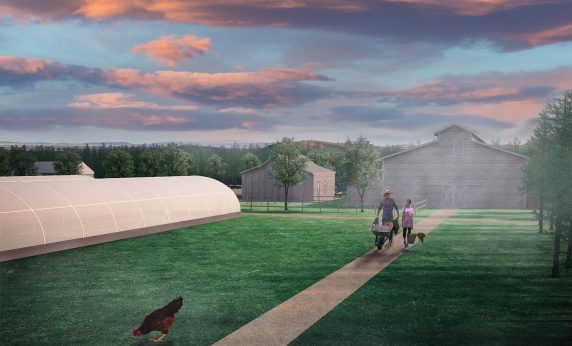 Business plan development to frame a preliminary solution to the Yukon's long-term food insecurity crisis.
In 2020, food insecurity was exacerbated by a global pandemic that affected vulnerable households in many countries, including the richest. This crisis particularly affects northern regions where access to food is difficult. With the third highest rate of food insecurity in Canada, the Yukon faces significant challenges in accessing food resources. As the Yukon only produces 10% of the food to meet its food needs, it is highly vulnerable to supply chain disruptions.
BC2's mandate was to propose an innovative business plan for an insect farm based on a circular economy model that uses all insect, crop and livestock waste and residues in the production process.
Black soldier flies are considered to have the greatest potential for animal feed. Their dried larvae contain between 36-48% protein and 31-33% fat. They are therefore an excellent alternative source of protein for animal feed. Their frass is also known to generate high quality fertiliser. Black soldier fly products have a low environmental footprint, low risk of disease transmission and are more affordable than conventional feeds and fertilisers.
Given their high potential, this insect species was chosen as the focus of the operation. To make the implementation of a circular farm possible, this business plan maps out investment projects over the next five years in four phases.
Phase 1 (years 1-2): Site preparation
Phase 2 (year 3): Operations to establish black soldier fly breeding
Phase 3 (year 4): Introduction of hoop houses and further breeding of black soldier flies
Phase 4 (year 5): Introduction of livestock, continuation of greenhouse farming activities and continuation of black soldier fly breeding
The business plan details the proposed investments for the site in eight parts:
Potential project partners
Farm objectives
Products and services offered by the farm
Market research, distribution strategy and promotion approach
Farm management and staff required
Capital plan and funding sources
Financial projections and cash flows for years one through five
Site analysis and proposed activities
The proposed tools will contribute to the implementation of an insect farm based on a circular economy model. This pioneering solution will enable the Yukon to address its food insecurity crisis in a sustainable manner.
Data sheet
Client

Individual

Location

Whitehorse (Yukon)

Year of execution

2021
Expertise
Strategies
Inter-Nation Collaboration
Graphic Design and Territorial Branding
Services provided
Planning
Economic development
Impact studies