Landscape Architecture for the Centre d'art Diane-Dufresne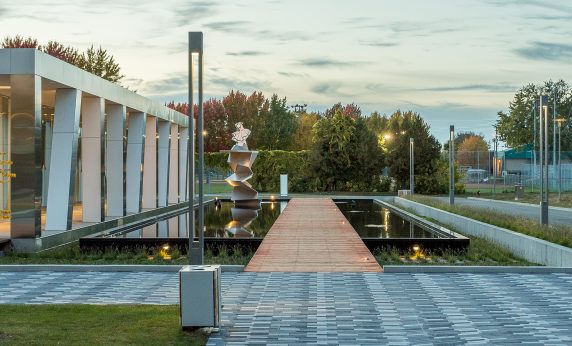 Carefully designed landscaping creates a new space where nature and culture meet.
The Centre d'art Diane-Dufresne is the cultural heart of Repentigny. The Centre brings contemporary art to a wide audience through exhibitions that establish a link with the community.
The construction of the new theatre and the art and creation centre has reinforced the redevelopment of the existing civic centre, which includes the city hall, the library, the Repentigny exhibition centre and the Église de la Purification. The Centre d'art Diane-Dufresne project, in particular, supports Repentigny's cultural policy objectives to enhance and promote culture by offering support to local artists and organizations.
For the Centre's landscaping, BC2 used fine, sleek lines to echo the architectural lines of the building and the contemporary character of the works on display. BC2 conceived of spaces in which the mineral and vegetation blend, where nature and culture become one. A long pool runs along the entire length of the building's façade and beyond. Its dialogue with the façade's metal framework creates a play of mirrors and light. The differences in level between the garden and the pedestrian walkways lend structure to the space, while the wooden walkways create an elegant rhythm. The plants in the garden have a graphic and pictorial character that evoke the site's vocation.
Data sheet
Client

Ville de Repentigny

Location

Repentigny

Year of execution

2015
Collaboration
ACDF Architecture
Groupe Meunier
Photos © Immophoto