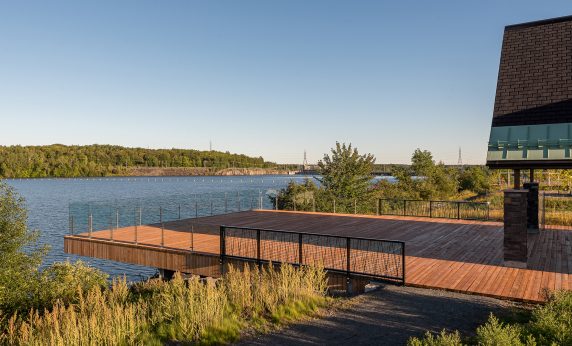 A design concept that transforms a former industrial site into a soothing area that integrates the traces of its rich past into its architectural whole.
The City of Shawinigan acquired a former site that had belonged to the pulp and paper industry for centuries. Its objective was to create a tourist attraction in the Grand-Mère sector.
BC2 worked with the City to establish the strategic positioning of this tourist hub and draw up a master development plan for the site. As part of this mandate, the firm produced the overall development concept for the Grand-Mère marina park and designed all the landscaping for the site. These are based on views of the river, the bridge, and the hydroelectric plant. Through the remains that have been preserved and enhanced, the new site evokes the City's rich industrial past.
The restoration of the banks of this completely artificial site has transformed the waterfront landscape by reintroducing a wide variety of native species, specifically selected to ensure that views of the river are maintained. Several rest stops and lookouts line the riverbank, providing users with numerous spaces to relax and enjoy the exceptional views.
Data sheet
Client

Ville de Shawinigan

Location

Grand-Mère

Year of execution

2017-2021
Services provided
Planning
Parks and green spaces
Collaboration
Pluritec
Photos © Studio Tarmac