Urban Planning
Landscape Architecture
Urban Design
Strategies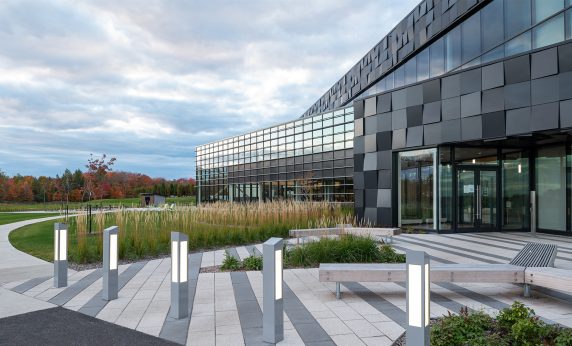 Landscaping based on the relationship between architecture and nature to create a new and stimulating space for Maison Simons employees.
An iconic figure on the province's entrepreneurial scene, Maison Simons wanted to establish a new distribution centre and work environment. Campus Simons, located on 2 million ft2 of land in the Espace d'innovation Chauveau in Quebec City, was designed with the goal of bringing nature and architecture together. BC2's landscape architecture teams used rigour, creativity, and flexibility to take into account the site's specific characteristics to minimize impacts on the existing wetlands.
The landscaping of Campus Simons was designed according to an integrated approach to sustainable development to optimally reconcile the green and recreational areas with the distribution centre's primary operations.
Outside, a large terrace offers employees a relaxing space with a southern exposure. Paths and walkways make it possible to discover the buildings, and the carefully arranged vegetation lets nature shine at the heart of this aluminium giant. Inside, a green garden adorns the vast reception hall, making for a hierarchical and lively space.
BC2's mission was to reflect Maison Simons' brand image by integrating the principles of sustainable development, the comfort and well-being of employees, and the optimization of the site's primary operations.
Data sheet
Client

Maison Simons Inc.

Location

Québec

Year of execution

2018-2020
Expertise
Urban Planning
Landscape Architecture
Urban Design
Strategies
Collaboration
GKC Architects
Ædifica
Photos © Studio Tarmac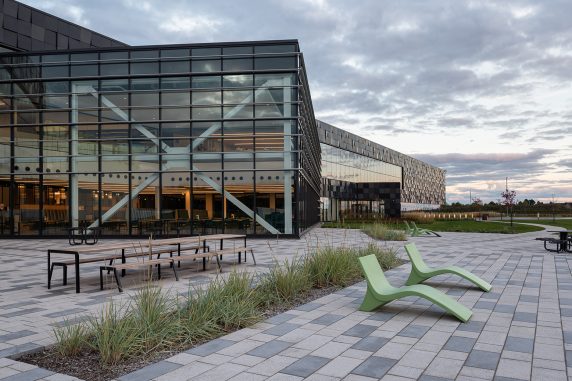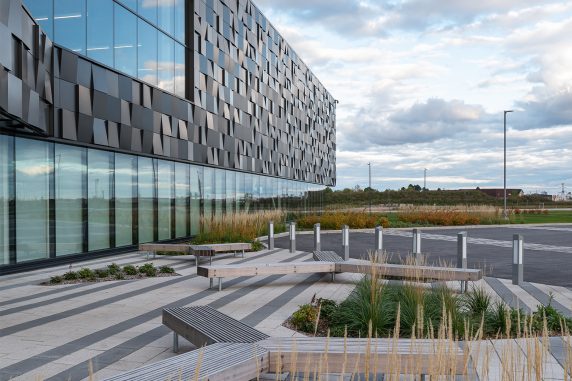 Awards received
Grands Prix du Design
Landscape Architecture / Commercial Landscape Architecture : Platinum Winner
2021
MIPIM Awards
Best Industrial & Logistics Development
2020