Terrebonne Parks Master Plan
Landscape Architecture
Strategies
Public Participation
Sports, Leisure and Recreational Tourism
Geomatics and Cartography
Graphic Design and Territorial Branding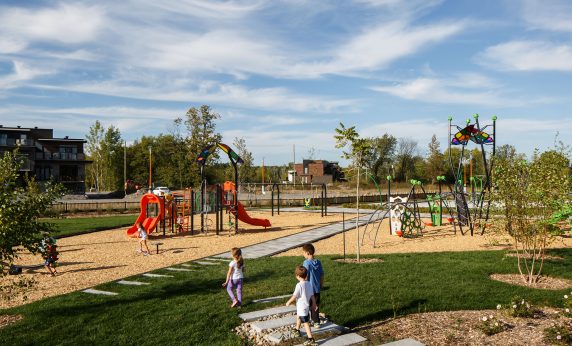 A well-thought-out new master plan that celebrates the unique character of Terrebonne's parks and plans infrastructure for the next ten years.
The City of Terrebonne wanted to update and complete its park and green space master plan and develop a new ten-year decision-making tool. This is an essential strategic planning tool for managers and elected officials to project future investments.
The new master plan, adopted in the summer of 2021, drew up a clear picture of the qualitative and quantitative inventory of the current network of parks, as well as outdoor sports and recreational facilities and areas. It has made it possible to establish the main findings and identify the issues and possible interventions to improve the supply and service of parks and green spaces over the next ten years. It also brought together a development vision and a proposed financial investment plan to be implemented and prioritized. For example, these investments could take the form of new parks to be developed or the addition of recreational and sports infrastructures.
During the master plan development process, the City of Terrebonne placed great importance on consultation by involving its citizens, employees, partners and organizations in the process. As a result of in-depth work and a collaborative exercise, the master plan proposed by BC2 makes it possible, among other things, to rethink the overall offer of the City's parks and fully understand their assets.
Data sheet
Client

Ville de Terrebonne

Location

Terrebonne

Year of execution

2021
Expertise
Landscape Architecture
Strategies
Public Participation
Sports, Leisure and Recreational Tourism
Geomatics and Cartography
Graphic Design and Territorial Branding
Services provided
Parks and green spaces
Master Plan
Sports infrastructure and recreational areas
Strategic planning
Acceptance and public consultation