Strategies
Public Participation
Sports, Leisure and Recreational Tourism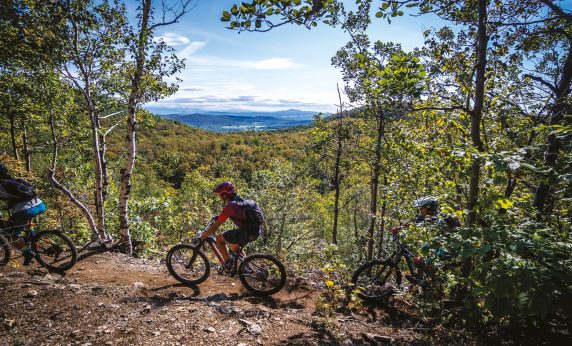 A well-thought-out master plan to link an exceptional network of trails in the Eastern Townships for the enjoyment of outdoor enthusiasts.
Bromont has approximately 140 km of four-season multi-use trails on its territory. This offering has recently been linked in a structuring project called the Parc des Sommets, whose mission is to protect natural environments and biodiversity and offer a quality living environment to citizens.
Les Amis des sentiers de Bromont, the organization responsable to manage the trails on the territory, wished to structure the operation and development of the park's networks, infrastructures, activities and services in a sustainable development perspective.
The creation of a new master plan, an essential planning and decision-making tool, required a variety of expertise ranging from strategy to landscaping and understanding the recreation and tourism sector. BC2, which brings together experts in all these fields, was chosen to carry out the mandate.
The new plan will make it possible to define the management and development process for the trail network to ensure its sustainability. The plan will be implemented in multiple stages, including an inventory of the network, an assessment that will include citizen participation, the proposal of a vision and orientations, the creation of an intervention plan as well as the development of various development and management tools and policies. Ultimately, the plan will make it possible to link and unify all the routes and offer users a fluid and pleasant experience.
Data sheet
Client

Les Amis des sentiers Bromont

Location

Bromont

Year of execution

2021-2022
Expertise
Strategies
Public Participation
Sports, Leisure and Recreational Tourism
Services provided
Planning
Master Plan
Sports infrastructure and recreational areas
Strategic planning
Acceptance and public consultation