District 55 Trois-Rivières
Urban Planning
Urban Design
Public Participation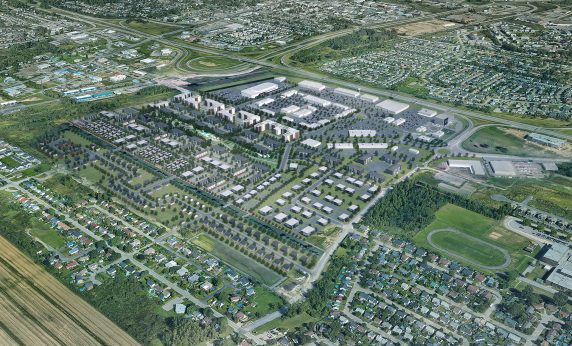 Multidisciplinary support to reinforce District 55's identity and make it a dynamic living environment integrated into its natural surroundings.
Located in Trois-Rivières, on a site strategically situated at the intersection of Highways 40 and 55 and the Laviolette Bridge, District 55 offers a new and attractive living environment to the population of Trois-Rivières.
Groupe Robin mandated BC2 to provide it with multidisciplinary support throughout the project's execution. BC2 was present during the various stages of execution of this large-scale project that has helped Trois-Rivières extend its reputation beyond its borders.
BC2 guided the update of the overall development plan and the steps to ensure the project's compliance. Stakeholder consultation workshops were conducted to establish the positioning of the development in the region and its purpose. This process ensured that this new environment would contribute to improving the supply of housing and commercial services while taking into account the outlined needs.
The final concept calls for the integration of a variety of residential and commercial typologies, a network of active links and a core of green spaces. The green spaces will include areas dedicated to sports activities, urban agriculture, and play and relaxation areas. Altogether, these attributes will contribute to a lively neighbourhood that combines the tranquility of the suburbs with the dynamism of the city and meets to the needs of a growing community.
Data sheet
Client

Groupe Robin

Location

Trois-Rivières

Year of execution

2016-2022
Expertise
Urban Planning
Urban Design
Public Participation
Services provided
Real Estate Development
Planning
Acceptance and public consultation