Urban Planning
Urban Design
Graphic Design and Territorial Branding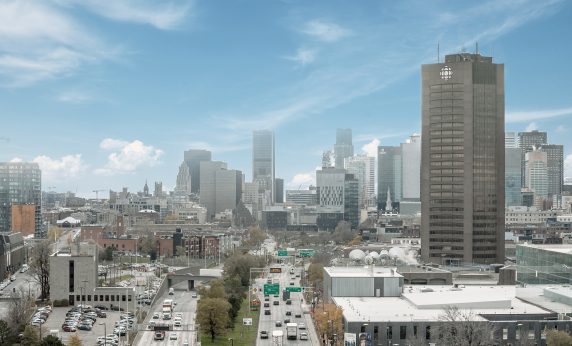 Multidisciplinary support to help transform the former Radio-Canada building into a new neighbourhood focused on the well-being of its future inhabitants that's harmoniously integrated into its environment.
An iconic landmark in the Montreal landscape, the Radio-Canada tower has been emblematic of the corporation for decades. However, the corporation has chosen to move to a new headquarters just a few hundred metres east of its original site, leaving room for a new project.
Groupe Mach, which acquired the rest of the site in 2017, wishes to carry out an urban requalification project, with a view to recreating a complete living environment combining most functions. Starting with the historic tower, the heart of the future "Quartier des lumières", it will give concrete expression to the owner's vision of building a defining real estate complex on the scale of the Faubourgs sector. The mega-block will be fragmented and brought back to a human scale, by continuing the existing urban grid, notably by extending De la Gauchetière, De la Visitation and Panet streets with towers up to 65 metres high, but also by developing an urban park, shared streets and a network of squares and public and private gardens.
This neighbourhood will offer an overall "live, work, play" experience based on principles of diversity, synergy and innovative urban integration to the new populations from all walks of life who will come to live in and visit it. To make it a living environment that meets the needs of its residents and those of the Faubourgs, the project will include a diversified housing offering, including affordable, family, community and social housing. The existing Radio-Canada tower and several other buildings will complete the commercial offering, as well as services, with offices and possibly even a school, all of which will be conducive to the emergence of a new urbanity and the retention of a local population.
In the context of this major project, BC2 is assisting the owner and developer throughout the approval process, in particular in obtaining by-law changes and the necessary permits and authorizations. BC2 is also providing support for strategic decisions related to the overall plan and the functional program.
Data sheet
Client

Groupe Mach

Location

Montreal

Year of execution

In progress
Expertise
Urban Planning
Urban Design
Graphic Design and Territorial Branding
Services provided
Planning and regulation
Real Estate Development
Planning
Master Plan
Acceptance and public consultation
Strategic coaching and professional outsourcing