Urban Planning
Urban Design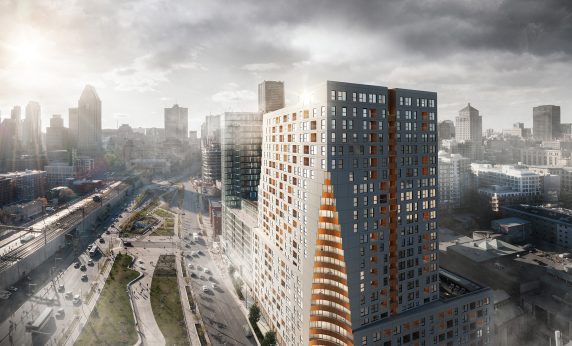 Urban planning support for the creation of a living space that celebrates the presence of the Cree Nation in Montreal.
Owned by the James Bay Cree since 1995, this site has witnessed the revitalization of the neighbourhood and reflects their desire to participate in Montreal's community development. With its inverted canoe shape, the architecture of the 26-storey tower draws inspiration from the symbols and traditions of the Cree community and distinctively marks the entrance to the city from Robert-Bourassa Boulevard. The ODEA project is the fruit of a collaborative and creative approach that, with the image of the tree at the heart of its design, shines a spotlight on nature.
Ideally located at the crossroads of Montreal's historical and business districts, the building will offer a state-of-the-art living environment that aspires to LEED Silver certification. The project includes 435 residential units (264 rental apartments and 171 condominiums). In addition to its function as a lobby and reception area, the ground floor will host various commercial spaces that will contribute to the area's economic, cultural, and social life. The interior courtyard will be accessible to the public, thereby consolidating the neighbourhood's social and exchange spaces.
BC2's urban planners and other experts ran from validating applicable regulatory parameters and the site's development potential through to obtaining demolition and construction permits. The building is expected to be completed in the spring of 2024.
Data sheet
Client

Eeyou Eenou Realty Properties et Cogir Immobilier

Location

Montréal

Year of execution

En cours
Expertise
Urban Planning
Urban Design
Services provided
Real Estate Development
Acceptance and public consultation
Strategic coaching and professional outsourcing