Place des festivités Saint-Jérôme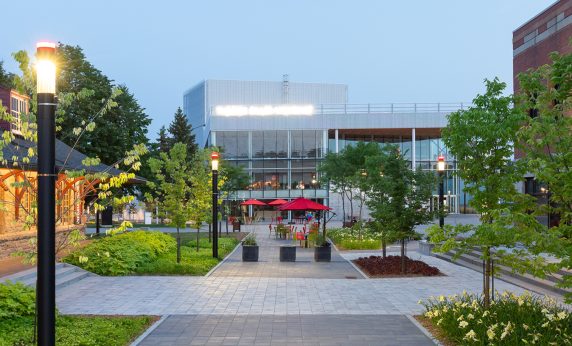 A design inspired by its artistic surroundings to energizes the Downtown core and strengthen the area's network of public spaces.
Surrounded by the Place de la Gare, from kilometre 0 of the P'tit train du Nord track and the new Gilles-Vigneault theatre, the Place des Festivités is located at the heart of the cultural complex of the "arts and knowledge" district.
The space was enlivened to encourage its appropriation by citizens' through the addition of paved surfaces near the theatre and urban furniture and planting for the comfort of users and to make the location more aesthetically pleasing. The design of the square communicates intimately with the new theatre, allowing it to host events of all sizes. The space integrates essential facilities for holding performances, such as an adapted power supply and the possibility of integrating festive lighting.
The new landscaping gives way to a multi-purpose space that creates a lasting enthusiasm for the site and fosters a meaningful cultural experience for audiences of all ages. The square celebrates the City's unique character and showcases the richness of Saint-Jérôme's cultural scene.
Data sheet
Client

Ville de Saint-Jérôme

Location

Saint-Jérôme

Year of execution

2017